We are named after the Capital City of Ireland – Dublin. So we thought you might like to learn a little bit more about this amazing city!
A Dubliner (pronounced Dub-lin-er) is a person who was born in or grew up in Dublin, Ireland.
Dublin is the capital and largest city in Ireland with over 1.8 million inhabitants. The name Dublin comes from the Irish name Dubhlinn meaning "black pool". This is made up of the elements dubh (black) and linn (pool). Today in modern Irish (Gaelic) it is referred to as Baile Átha Cliath.
Dublin is the home of Guinness and is famous worldwide for its pubs. It is renowned for the friendliness and hospitality of its citizens. Trinity College, the home of the world famous Book of Kells, is in Dublin. It has the largest public park in Europe, which is the Phoenix Park. Many modern entertainers are from Dublin including U2, Sinéad O'Connor, Bob Geldof and Colin Farrell. All of these and many other things make Dublin famous around the globe. Read on for more info on one of the best Capital cities in Europe!
---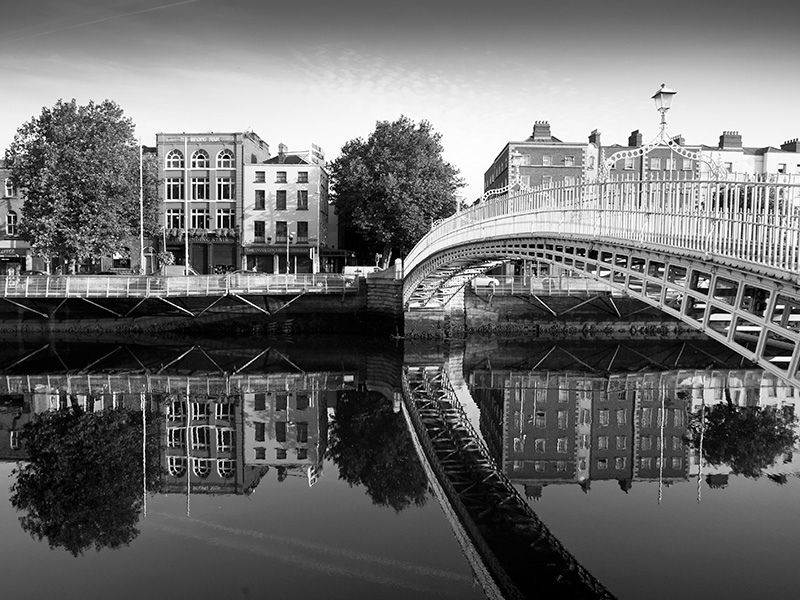 Famous Landmarks
Dublin has many landmarks and monuments dating back hundreds of years. One of the oldest is Dublin Castle, which dates back to 1204.
One of Dublin's newest monuments is the Spire of Dublin, or officially titled "Monument of Light". It is a 121-meter (398 ft.) conical spire made of stainless steel and is located on Dublin's main street – O'Connell Street.
The General Post Office [GPO for short] is the headquarters of the Irish Post Office, An Post, and Dublin's principal post office. Also located in the center of O'Connell Street it is one of Ireland's most famous buildings, and was the headquarters for the historic 1916 Easter Rising which ended British rule in Ireland.
The Ha'penny Bridge an old iron footbridge over the River Liffey is one of the most photographed sights in Dublin and is considered to be one of Dublin's most iconic landmarks. It dates back to 1816 and was named because of the 'toll' charged to cross it of a Half Penny.
Other popular landmarks and monuments include the Mansion House, the Anna Livia monument, the Molly Malone statue, Christ Church Cathedral, St Patrick's Cathedral, The Custom House, and Áras an Uachtaráin (Government House).
Culture
Dublin has a world-famous literary history, having produced many prominent literary figures, including Nobel laureates William Butler Yeats, George Bernard Shaw and Samuel Beckett. Other influential writers and playwrights include Oscar Wilde, Jonathan Swift and the creator of Dracula, Bram Stoker. It is arguably most famous as the location of the greatest works of James Joyce, including Ulysses, which is set in Dublin and full of topical detail. Dubliners is a collection of short stories by Joyce about incidents and typical characters of the city during the early 20th century. Other renowned writers include J. M. Synge, Seán O'Casey, Brendan Behan, Maeve Binchy, and Roddy Doyle. In 2010, Dublin was named as a UNESCO City of Literature, joining Edinburgh, Melbourne and Iowa City with the permanent title.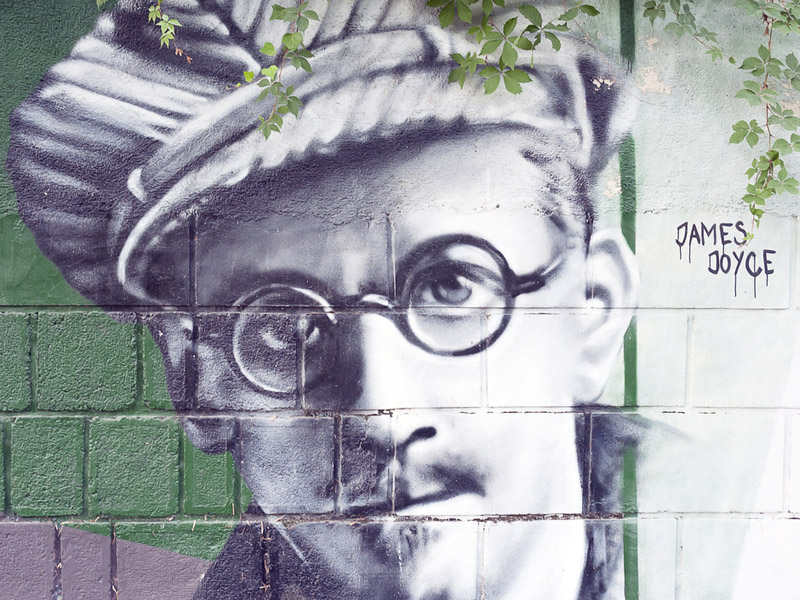 ---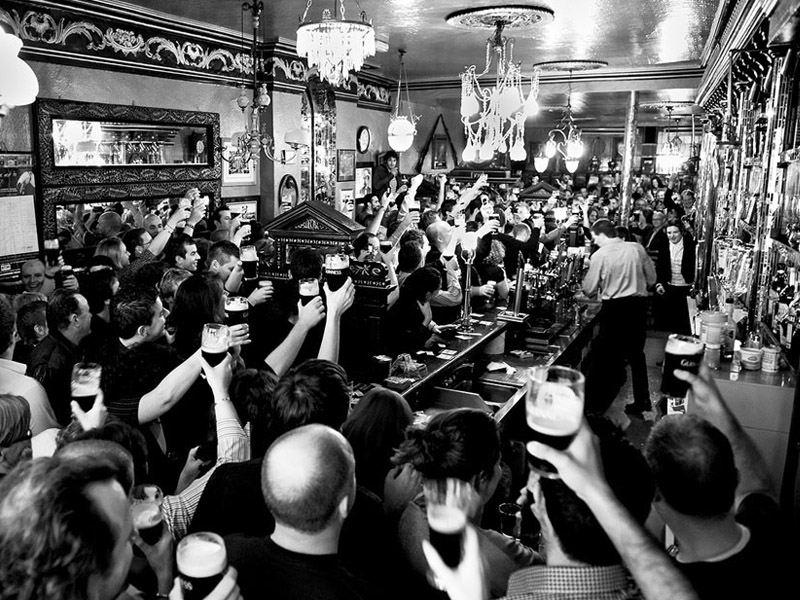 Entertainment
Dublin has a vibrant nightlife and is reputedly one of Europe's most youthful cities, with an estimate of 50% of citizens being younger than 25. There are many pubs across the city center, but the best-known area for nightlife is Temple Bar, south of the River Liffey. The area has become popular among tourists, including stag and hen parties from all around Europe.
Live music is popularly played on streets and at venues throughout Dublin and the city has produced several musicians and groups of international success, including U2, one member of Westlife, the Dubliners, the Thrills, Horslips, the Boomtown Rats, Boyzone, Ronan Keating, Thin Lizzy, Paddy Casey, Sinéad O'Connor, the Script and My Bloody Valentine
Sport
Croke Park is the largest sports stadium in Ireland. The headquarters of the Gaelic Athletic Association (GAA), it has a capacity of 84,500 and is the fourth largest stadium in Europe. It hosts the premier Gaelic football and hurling games, international rules football and other sporting and non-sporting events including concerts.
Dublin also has other famous sporting venues such as the Rugby Stadium of Landsdowne Road (known as the Aviva Stadium); dog and horse racing courses of Shelbourne Park and Leopardstown, a National Basketball arena and National Aquatic Stadium.
---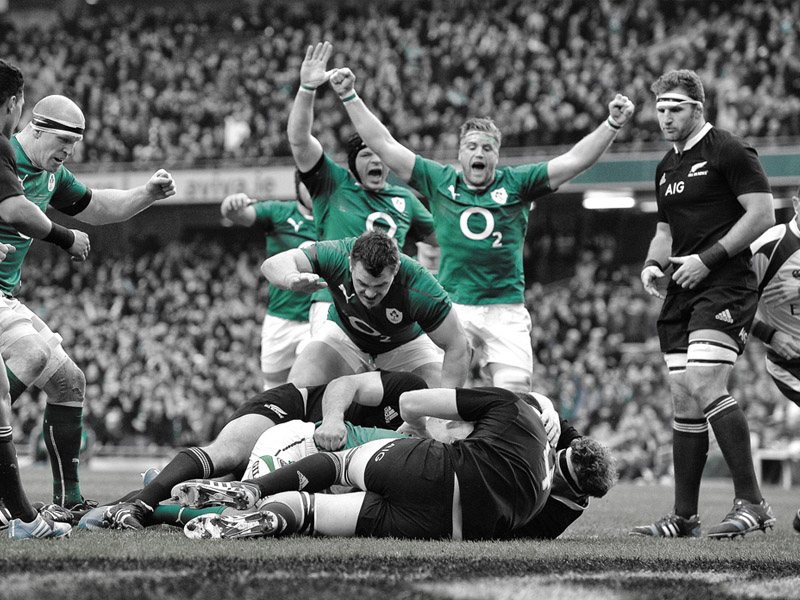 ---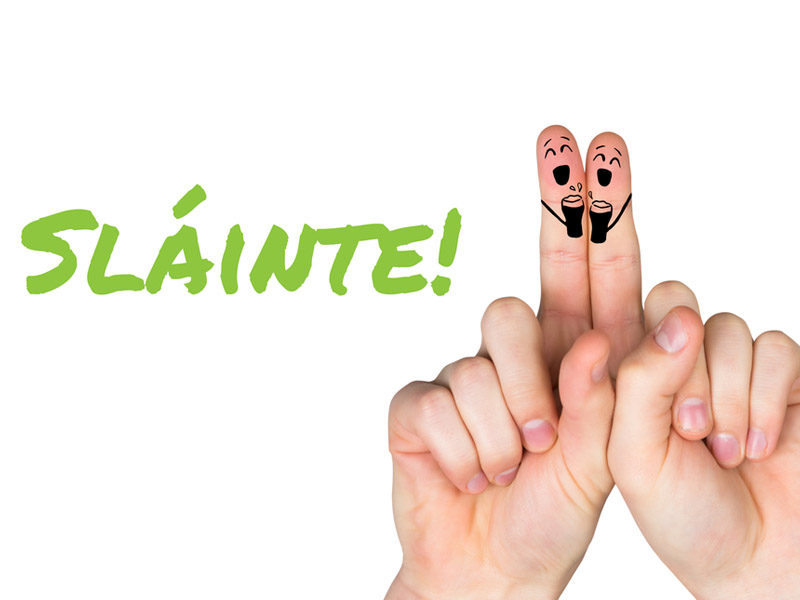 Irish Language
Although English is the primary spoken language, the native Irish language is still taught in every school in Ireland and there are over 15,000 students who go to one of 31 all Irish-speaking schools in Dublin. Some Irish sayings for you to learn (as Gaeilge) include:-
Sláinte! – means Health in Irish, it is used when drinking for 'Cheers' or Γαμασς! It is pronounced as 'sloyn-cha'.
Dia Dhuit is a very common way of saying Hello in Irish – Γεισας. Literally, it means something like "God to you". You pronounce it like this: jee-ah ghwit.
Conas atá tú? Is How Are You / Τι Κανεις? Say it like this: cun-us ah-taw too.
Póg Mo Thóin = One of the more common phrases tourists pick up when in Dublin! Ask a staff member to explain…..
If you read all this you must have a bit of a thirst by now! So go ahead and order a 'Pint of the Black Stuff' – Guinness and say Sláinte!