The Dubliner Supports Greece!
---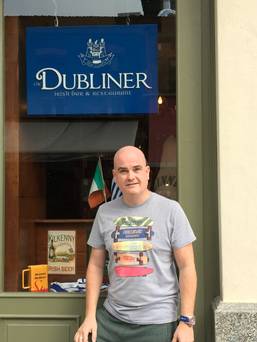 Here at The Dubliner we love Greece, its people and its traditions and we are delighted to call Thessaloniki home. In this current time of crisis things are tough for us all and we have to stick together and also spread the word about the true beauty of this city and this country.
Many people all across Europe and the world are interested in and worried about what will happen in Greece. As an Irish pub in Thessaloniki we have been very active in explaining the situation in our home country of Ireland and letting people there know the real problems that we all are facing on a daily basis and encouraging their support.
Here are links to interviews that one of the owners, Ken Hickey, held with the two most popular radio stations in Ireland:
http://www.todayfm.com/player/podcasts/The_Anton_Savage_Show/The_Anton_Savage_Show/36365/2/cp_2/
http://www.rte.ie/radio/utils/radioplayer/rteradioweb.html#!rii=9%3A20805064%3A135%3A30-06-2015%3A
And also an article from us in the Irish Independent:
http://www.independent.ie/irish-news/news/i-wont-turn-my-back-on-greece-31339311.html
We will soon be open for business and active in employing people and supporting the local economy in every way we can. As a new Irish pub and restaurant we hope to make the city proud and continue to foster the great mutual love and respect between our two countries.
Our message from The Dubliner is: "We support Greece and we're staying with you through everything!"