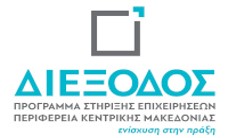 STRENGTHENING SMALL AND MEDIUM ENTERPRISES AFFECTED BY COVID-19 IN CENTRAL MACEDONIA
THE DUBLINER CATERING SERVICES based in the Region of Central Macedonia, joined the Action "Support to small and micro-enterprises affected by Covid-19 in Central Macedonia" with a total budget of €200k euros.
The Action aims to provide support to micro and small enterprises in the Region of Central Macedonia in the form of a non-repayable grant to ensure sufficient liquidity to deal with the effects of the Covid-19 pandemic.
The total budget (100% Public Expenditure) of the investment is €50,000, and is co-financed by the European Regional Development Fund (ERDF) of the European Union (EU) and National Resources under the Operational Program "Central Macedonia" 2014-2020.