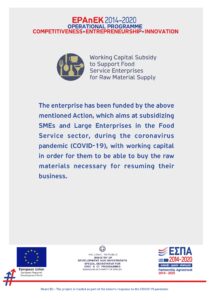 Click on the picture above to enlarge and get better view of the poster.
The company was strengthened in the framework of the action aimed at supporting SMEs and Large companies in the Catering Sector, for the supply of raw materials necessary for the resumption of their operation, under the pandemic of COVID-19 disease.
"GOVERNMENT CAPITAL SUBSIDY TO CATERING COMPANIES FOR SUPPLY OF RAW MATERIALS" APPROVED WITH DATE 21/07/2021 AND FOR AMOUNT OF AID 27,998.74 €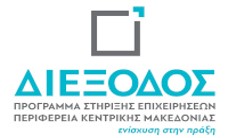 STRENGTHENING SMALL AND MEDIUM ENTERPRISES AFFECTED BY COVID-19 IN CENTRAL MACEDONIA
THE DUBLINER CATERING SERVICES based in the Region of Central Macedonia, joined the Action "Support to small and micro-enterprises affected by Covid-19 in Central Macedonia" with a total budget of €200k euros.
The Action aims to provide support to micro and small enterprises in the Region of Central Macedonia in the form of a non-repayable grant to ensure sufficient liquidity to deal with the effects of the Covid-19 pandemic.
The total budget (100% Public Expenditure) of the investment is €50,000, and is co-financed by the European Regional Development Fund (ERDF) of the European Union (EU) and National Resources under the Operational Program "Central Macedonia" 2014-2020.